Section II
Catherine W.
Created:
2009-10-21
Last Modified:
2011-07-06
Size:
77
Views:
281
---
Related Textbooks:
Art History, Vol. 1, 3rd Edition
Funerary vase (Krater), c. 750-700 BCE, Dipylon Cemetery, Athens
. Achilles and Ajax Playing a Game,
Exekias, c. 540 BCE.
Standing Youth (Kouros), [New York Kouros]
c. 600 B.C., Archaic period.
Peplos Kore
, c. 530 B.C.E., Archaic period
Kritian Boy
(or Kritios Boy), c. 480 BCE, Marble, Athens, Greece
Doryphoros (Spear Carrier), Polykleitos, Bronze original c. 450 BCE, Roman marble copy.
Parthenon, Kallikrates and Iktinos (architects), Phidias (sculpture), 447-438 BCE, Acropolis, Athens, Greece
Erectheion,
421-405 BCE, Marble, Acropolis, Athens
Praxiteles, Aphrodite of Knidos, c. 350 B.C., Roman copy of Greek original, Late Classical
Battle of Issos, from House of the Faun, Pompeii, 1st century CE, Roman mosaic after Greek fresco from 310 BCE
Dying Trumpeter (or Dying Gaul), c.230-220 BCE for bronze original (Roman marble copy), Marble, Lifesize Greek, Hellenistic
Winged Victory of Samothrace, c. 190 BCE, Marble, Greek, Hellenistic
Seated Boxer, c. 100-50 BCE , Hellenistic
Venus de Milo (Aphrodite of Melos), c. 150-100 BCE, Marble, Height 6'8"
Hagesandros, Athenodoros and Polydoros of Rhodes, Laocoön and his sons, Early 1st century CE. Roman copy, Hellenistic.
Sarcophagus from Cerveteri,
c. 525-500 BCE, Terracotta, Length 6' 7" (lifesize figures), Etruscan
She-Wolf,
c. 500 BCE, Bronze, Height 33 ½", Etruscan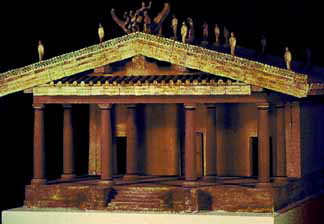 Reconstruction of an Etruscan temple, as described by Vitruvius
Apollo, from Veii, ca. 510 BCE, terra-cotta, height 5'9" (1.75 m)
Temple of Portunus, Late 2nd century BCE, Republican Rome
Pont du Gard, near Nîmes, France, late 1st century B.C.E., local limestone.
Emperor Augustus
(or Augustus of Primaporta), Early 1st century CE, Rome (Empire)
Ara Pacis
(or Altar of Peace), 13-9 BCE, Marble, (Including Tellus panel and Imperial Procession)
Flavian Amphitheater (or Colosseum), 72-80 CE, Brick, concrete, marble, Rome (Empire)
The Arch of Titus, c. 81 CE. marble and travertine.
Pantheon, 117-125 CE, Rome (Empire)
Portrait Bust of a Man, 1st century BCE, Marble, Republican Rome
Marcus Aurelius, 161-180 CE, Bronze, Rome (Empire)
Scenes of a Dionysian Mystery Cult, c. 60-50 BCE, Villa of Mysteries, Pompeii, Italy.
Ground Plan and Perspective Reconstructions of the Interior of the Basilica Ulpia in the Forum of Trajan. 98-117 CE.
Reconstruction and diagram of the Baths of Caracalla, Rome, c. 211-217 CE
Arch of Constantine, 312-315 CE, Marble, Rome
Constantine the Great, 325-26 CE, Marble, Rome.
Synagogue, Dura Europos (reconstruction), 244-245 CE, Tempera on plaster, Syria
Catacomb of Sts. Peter and Marcellinus, Good Shepherd, Orants and Jonah, late 3rd-early 4th c., Rome
Old St. Peter's Basilica,
c. 320-340 CE, Rome, Commissioned by Emperor Constantine
Santa Costanza, c. 350, Rome.
Christ as the Good Shepherd, at Galla Placidia, Ravenna, c. 425-426, mosaic
San Vitale, Ravenna, 540-547. (Including Court of Justinian, and of Theodora on side apse mosaics)
Court of Justinian, from San Vitale, Ravenna, 540-547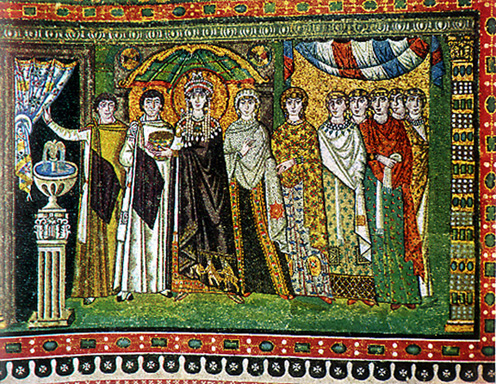 Court of Theodora, from San Vitale, Ravenna, 540-547
Hagia Sophia, Anthemius of Tralles and Isidorus of Miletus, 532-37, Constantinople, Byzantine
Vienna Genesis, early 6th century, illuminated manuscript.
Icon of the Virgin and Child Enthroned, with Saints Theodore and George (or Demetrios) and Angels, late 6th century CE, Monastery of Saint Catherine, Sinai, Egypt.
Christ as Pantokrator, Interior of the Katholikon, Hosios Loukas, c. 1020.


Virgin of Vladimir, Icon, 11th-12th c. , 31"
The Dome of the Rock, begun by c. 687, completed 691 CE, Jerusalem
Great Mosque, Samarra, Iraq, 847-852, mud and baked brick
Great Mosque (now Cathedral), Córdoba, Spain, begun 785-86, expanded c. 832-848, 961-976 (8th through the 10th centuries is acceptable for the exam)
(Interior) Great Mosque (now Cathedral), Córdoba, Spain, begun 785-86, expanded c. 832-848, 961-976 (8th through the 10th centuries is acceptable for the exam)
Court of Lions, Alhambra in Granada, Spain, Nasrid Dynasty, 1354-1390.
Illuminated Tugra of Sultan Suleyman, c. 1555-1560.
a human figure standing with most of its weight on one foot so that its shoulders and arms twist off-axis from the hips and legs. (see Aphrodite of Knidos, Venus de Milo)

Black figures on a red background. (See Achilles and Ajax Playing a Game)

Statues of idealized nude male warriors and athletes to mark a grave site. (like Standing Youth)

Idealized statue of a woman to mark a grave site. (Peplos Kore, or Kore)

Red figures on a black background. (see Death of Sarpedon)

No base, simple capital, fluting

Base, decorative, fluting

Acanthus leaf design, has a base and capital

continuous relief sculpture telling a narrative.

Scroll-like, spiraling ornament. (Found in Ionic and Corinthian order columns)

architectural term referring to sunken panels (see dome of Pantheon)

opening in ceiling (see dome of Pantheon)

Circular wall that supports a dome (see Pantheon)

circular building that supports a dome and can stand alone (see Pantheon)

spherical triangle corners between arches

God-bearer (see Virgin and Child Enthroned with Saints)

ruler and judge of the world (see Christ as Pantokrator from Katholikon, Hosios Lukos.)

architectural device to help transition from a square to a dome by bracing each of the four corners with lintel, corbelling, or vaulted arch

Icon screen located under the dome and marks the entrance to an apse

courtyard and meeting place in mosque

empty niche in the quibla wall

fenced space in front of the mihrab reserved for the caliph

unique seal/signature given to sultans when they come to power

* The material on this site is created by StudyBlue users. StudyBlue is not affiliated with, sponsored by or endorsed by the academic institution or instructor.
Words From Our Students
"StudyBlue is great for studying. I love the study guides, flashcards, and quizzes. So extremely helpful for all of my classes!"
Alice, Arizona State University
"I'm a student using StudyBlue, and I can 100% say that it helps me so much. Study materials for almost every subject in school are available in StudyBlue. It is so helpful for my education!"
Tim, University of Florida
"StudyBlue provides way more features than other studying apps, and thus allows me to learn very quickly! I actually feel much more comfortable taking my exams after I study with this app. It's amazing!"
Jennifer, Rutgers University
"I love flashcards but carrying around physical flashcards is cumbersome and simply outdated. StudyBlue is exactly what I was looking for!"
Justin, LSU